The 55 Best Gifts for Bread Bakers
Are you looking for a gift idea for the bread baker in your life? This is the most comprehensive list of gifts for bread bakers you'll find, and for any budget!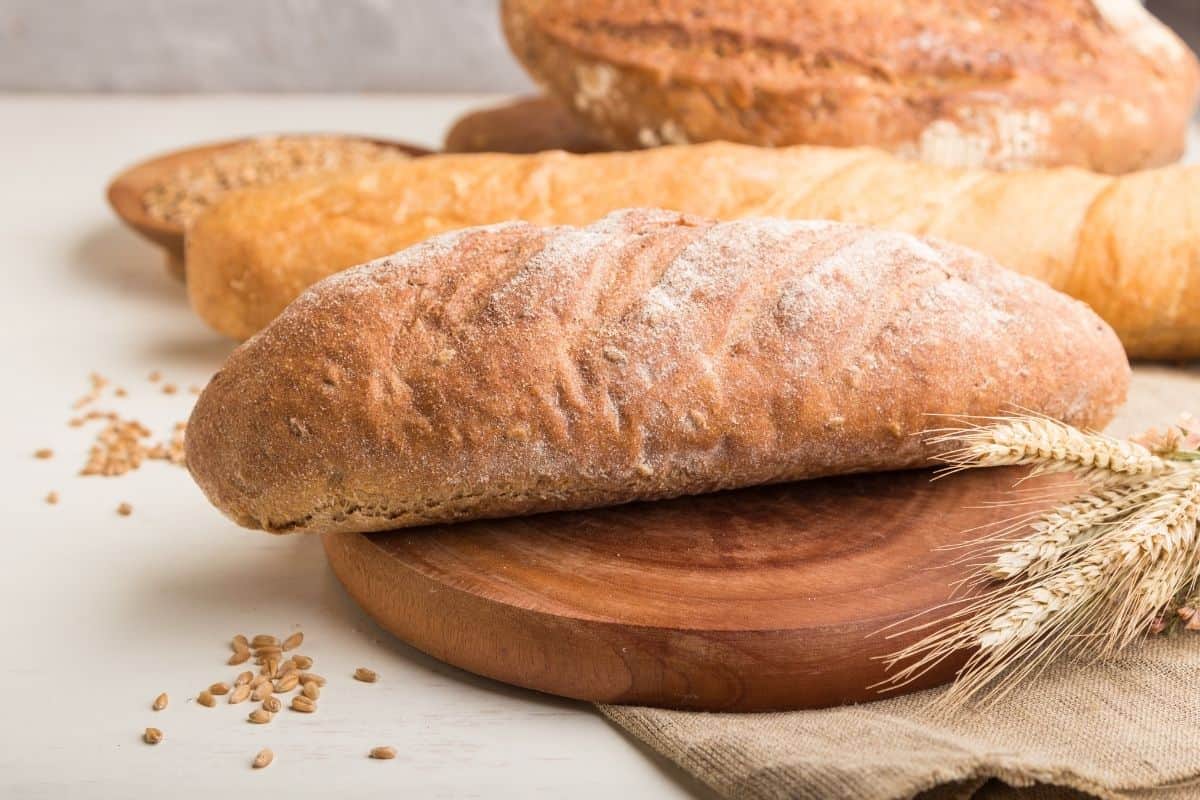 (As an Amazon Associate I earn from qualifying purchases. This means that if you purchase an item via a link on my website I earn a small commission at no extra cost to you.)
Gift Ideas for $20 and below
Rolling Pin
While it is possible to stretch your dough during shaping, I find a rolling pin helpful when I'm shaping my sandwich loaves. This rolling pin is a classic design with no handles, and is very inexpensive.
Dough Scraper
Dough scrapers are a good tool for both shaping bread dough, and also scraping the work area clean after kneading and shaping. This scraper has a comfortable handle and a useful ruler to make it easier to measure dough size accurately.
Flour Dredger
While it is possible to spread flour over your work surface with your hands, this flour dredger makes even flour distribution much easier – and more fun. 🙂
Basting Brush
This set of basting brushes is a great low-budget idea for your baking friend. A little basting in butter can make anything from sandwich bread to biscuits more delicious!
Fresh Sourdough Starter
This fresh sourdough starter from King Arthur Flour is a great idea for a bread baker who wants to learn the art of sourdough!
Biscuit Cutters
This set of round biscuit cutters gives you several size options as well as straight edged and fluted options. Great for baking scones, biscuits, and English muffins.
Dough Whisk
Danish dough whisks are a great tool to use when making bread. They incorporate the flour and water together surprisingly quickly, and are much easier to clean than traditional balloon whisks. They also hold up to stiffer doughs, cutting through all the flour pockets quickly and effectively.
Silicone Baking Mat
This mat is great for kneading and shaping your bread dough. It cleans up easily, and the nonstick surface makes it possible to knead bread without adding extra flour, which can make the dough too dry.
Couche
This bakers' dough couche is perfect for proofing baguettes. It helps control the shape of the rise – by having fabric folds between loaves, it forces the rise to happen vertically and doesn't allow the loaves to spread. It also helps to dry out the outside of the dough, which helps give the baguette its signature crust.
Bread Warmer
If your loved one enjoys baking for friends, they may love to have a terracotta bread warmer. These terracotta discs are heated in the oven at 350 degrees, and then placed in the bottom of a bread basket to keep its contents warm for hours!
Butter Crock
Any bread baker needs soft butter for spreading. A butter crock is a great way to keep butter fresh without needing to keep in the refrigerator. Butter can stay fresh for weeks out on the counter – ready to be spread at any time!
Bread Serving Basket
Any bread baker needs a basket to serve bread in!
Flour Sifter
A flour sifter is a great gift for any baker. And this sifter has an old fashioned crank for sifting that's a little easier on the hands.
Bread Lame
A lame is an essential tool for scoring bread. This lame can switch easily from straight to curved depending on what kind of scoring is needed.
Raw Honey
Another gift that will provide a delicious topping to your loved one's creations. Raw honey tastes delicious drizzled over a fresh slice of artisan bread. It would be even better if you could source some raw local honey from the baker's local area.
Beeswax Bread Wrap
Eco-friendly beeswax wraps are a great way to seal in freshness for storage on the counter. Just use the warmth of your hands to seal the wax together! These wraps are completely re-usable and with proper care can last up to a year.
Bread Slicer
This bamboo bread slicer cutting guide will be a handy tool to give those perfectly even slices every time.
Banneton Basket
This proofing basket is great for controlling the shape of your rise. The coiled shape also creates a beautiful spiral pattern on artisan loaves.
Measuring Spoons
This measuring spoon set is an extra special version of what most bakers probably have in the kitchen. Made of wood, it's beautiful to look at and fun to use.
Food Thermometer
Using a digital thermometer is a great way to check if bread has been cooked all the way through. This thermometer can also give an accurate reading for cooking meat and homemade candy.
Cooling Racks
Any bread baker knows that bread needs to cool from all sides, or you can end up with a soggy crust. These cooling racks are an essential tool for any baker.
Bread Journal
A bread baker at any stage of their bread journey will want to keep track of their methods and results. The Bread Baker's Journal is a great option for beginners all the way to advanced bakers. It comes equipped with a glossary of bread baking terms and prompts to help bakers find patterns in their results. This is guaranteed to advance any baker's skills – and it looks pretty on the shelf too!
Cutting Board
A beautiful wooden cutting board is a wonderful place to slice fresh homemade bread. Not only does this cutting board fulfill its practical purpose, it will look beautiful hanging on the wall when it's not in use!
Digital Food Scale
Most bread bakers who are serious about getting the best results from their bread use a scale to weigh their ingredients. It gives more precise measurements for better control over the result!
Baguette Pan
These baguette pans are perfect for baking baguettes. They keep the dough from spreading sideways, and the perforations allow for better air flow during baking. This helps the baguettes form their signature crust!
Artisan Jams
This collection of jams will give the bread baker in your life a chance to sample their freshly baked creations with all kinds of different spreads!
Dutch Oven Sling
This sling is reusable, which will help to reduce waste by avoiding repeated use of parchment paper. It also helps to avoid burnt fingers when pulling that beautiful artisan loaf out of the dutch oven!
Oven Mitts
If your bread baking friend is cooking bread in a dutch oven or on a stone, it's important that their oven mitts have high heat resistance! Look for a pair that is heat resistant up to at least 500 degrees. These oven mitts are my favorite – they come with cute pot holders as well!
Linen Bread Bags
Bread bags are a great low-waste option for keeping your bread fresh. These linen bags come in various sizes to store all different loaf shapes.
Classic Apron
An apron is an essential tool for every baker! This classic red gingham apron has a farmhouse vibe to it.
Bread Cookbooks
A new cookbook is always a great idea. Lots of inspiration for new breads and pastries to try, as well as new skills to master. Here's a list of my top recommendations:
Specialty Flours
A collection of specialty flours could be an opportunity for the baker in your life to do a little experimentation. You could look into ancient grains like Kamut, Spelt, or Einkorn. Semolina is a great choice if you want to try your hand at pasta making, and it's also handy if you like to bake English muffins. You can also look at gluten free varieties like almond or potato flour, or this special 1 to 1 replacement gluten free flour which allows you to replace traditional flour in any recipe with the same amount.
Gifts for $20-$50
Dough Riser Heat Pad
When the house is chilly, it's hard sometimes to get that bread to rise. This dough rising heat pad gives just a little extra heat under the bowl so the dough can rise in less time!
Roll Pan
If batch baking is a favorite activity, this pan will be a great addition to the kitchen.
Glass Mixing Bowls
Glass is my favorite kind of bowl to mix bread in. I can see the texture of the dough more clearly through the sides of these mixing bowls. It's much easier to see those bubbles forming as the yeast does its work!
100% Cotton Tea Towels
Cotton towels can serve many purposes in a baker's kitchen. They can line proofing baskets, cover dough as it rises (moisten first!), and wipe up the mess after kneading or shaping.
Measuring Cups
Some bakers would rather measure with a kitchen scale, but I've always found measuring cups to be enough for my purposes. These measuring cups are handcrafted out of wood and are as beautiful as they are useful.
Bread Knife
Any bread maker needs a good bread knife for slicing. This knife has a comfortable wooden handle.
Cast Iron Skillet
This makes a phenomenal gift because not only is it great for baking skillet breads, cornbread, and English muffins, but you can use it for virtually anything you cook on the stovetop. A cast iron skillet is my favorite tool in the kitchen!
Related: How to Remove Rust from Cast Iron
Toaster
Once homemade bread has been around for more than three days, it gets a little dry. A toaster can help that bread stay delicious even after it has gone past its peak freshness.
Dipping Oils
This collection of flavored dipping oils are a great companion for freshly baked bread.
Sourdough Starter Jars
These jars are a great way to store sourdough starter. They include measurement lines on the outside so that you can see when your starter has reached double its size and it's time to bake.
Baguette Miter
If you want your baguette to have those perfect diagonal slices, this wooden miter can help guide the slicing.
Pullman Loaf Pan with Lid
This loaf pan is the perfect way to bake sandwich bread. It controls the shape of the rise and the bake so you get those perfect sandwich slices every time.
Bread Box
This bread box looks beautiful on the counter and keeps that homemade bread fresh for days longer!
Gifts $50-$100
Artisan Cheese
With a little wine, this artisan cheese collection will be a great companion to all that freshly baked bread.
Dutch Oven
Baking bread in a cast iron dutch oven is a great way to get a nice crusty artisan loaf. The cast iron conducts heat evenly and the lid traps the steam inside, helping the bread to develop that yummy crust. And a dutch oven is a great way to cook stews and roasts too!
Bread Cloche
Another option for baking crusty loaves. This cloche is made of unglazed stoneware, which also conducts heat for an even bake. The lid keeps the moisture inside to develop the crust.
Baking Steel
If the baker in your life is a big fan of baking pizza or flatbreads, this baking steel is a great conductive surface. A baking stone is a cheaper option that does essentially the same thing, but it will eventually absorb odors from the food cooked on it due to its porous surface. Baking stones can also crack with sudden changes in temperature, so a baking steel may be a better long term investment.
Bread Maker
Maybe you know someone who just loves homemade bread but doesn't have the time to put into mixing, kneading, and rising. This bread maker is an easy way to enjoy freshly baked bread with minimal effort. Just put the ingredients in the machine, press the button, and wait!
Gifts Over $100
KitchenAid Bread Bowl
If you have a KitchenAid mixer, this companion bread bowl is a great multi-purpose tool for any bread baker. The mixing bowl has measurement lines on the inside so you can measure the dough's rise. It also comes with a lid so you can mix, knead, rise, and bake your dough using the same container! The bowl and lid are oven safe and together form a cloche for baking.
KitchenAid Sifter and Scale Attachment
For those bakers who already have a KitchenAid mixer, this handy attachment will sift and measure the ingredients prior to adding them to a mixture.
Kitchenaid grain mill attachment
This gift idea is another companion to the KitchenAid mixer. If someone is looking to start grinding their own grains, this grain mill attachment will grind fresh flour.
If you want to start grinding your own flour but you don't own a KitchenAid mixer, this grain mill is around the same price.
Comfy Kitchen Shoes
Anyone who spends a lot of time on their feet cooking and baking will appreciate a great pair of shoes to wear in the kitchen. These shoes are a favorite with doctors and nurses (who we know spend tons of time on their feet). Bye bye back and foot pain!
A Real Splurge
Kitchenaid Mixer
If you're really looking to splurge and your special baker doesn't already have one, a KitchenAid mixer is always exciting – and then you can try a few of the attachments next time you're looking for a gift!
I hope you enjoyed this gift guide for bread bakers. If you can think of any I missed, leave a note in the comments! Happy gifting.